The New King Is Here, His Name is Stefanos
88 Comments · Posted by Scoop Malinowski in Scoop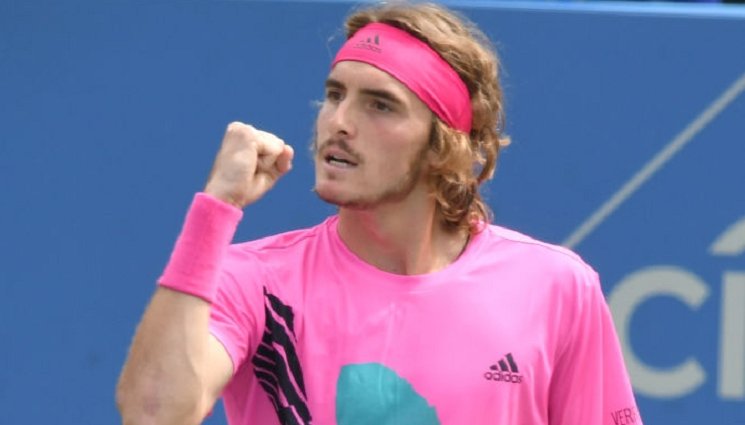 By Scoop Malinowski
This is the week the new king has emerged. First it was the slaying of the reigning Wimbledon champion two days ago and today he conquered the defending Cincy Open titlist and world no. 3 36 76 64.
That's enough evidence for me. Stefanos Tsitsipas is the prince who will soon be wearing the king's crown.
You know Tsitsipas is a threat to the ATP hierarchy when his conquest denies giving credit. Alexander
Zverev said this after his loss to the Greek today: "I don't think he played that well. I think the match was absolutely pathetic on all levels. I'm very honest with you guys (press). Today was an absolute pathetic match I don't even think he played well."
Zverev didn't bite his tongue. "To be honest, we played three sets and all three sets should have been 3-3 and 3 if we played best of five. That's what the score should have been."
Sounds like the frazzled words of a very confident player who was struck by shocking loss he did not expect. Much like a dominant world champion boxer who gets suddenly caught by a knockout punch and loses his title to an opponent nobody gave much chance to. Just last week in Washington DC, Zverev dominated Tsitsipas in a 63 62 win.
Stunningly, the 19-year-old figured out his errors and turned the tables on the player many tennis experts feel is very close to winning his first major and eventually becoming no. 1.
But now suddenly it's Tsitsipas who looks like he can leapfrog the rather large group of elite players who have still not won their first major titles – Thiem, Zverev, Goffin, Kei, Raonic, Sock, Berdych.
There is something very special about Tsitsipas. Today's win over Zverev marked another rare, special achievement – Tsitsipas is the youngest player since Rafael Nadal in 2006 to win three straight matches vs ATP top 10 players in one tournament.
The loss is particularly painful for Zverev because he should not have lost today. Tsitsipas hit 28 winners and 42 errors and won 15 of 22 points at net…AZ will be kicking himself. Most disturbing for Zverev is he served for the match, had two match points and was just 5/14 on break points. He had the victory in his jaws but failed to complete the job.
Now it's Tsitsipas who is the new kid in town, the flamboyant, sensational, magician escape artist who everyone will be talking about and going out of there way to watch.
Wins like today and vs Djokovic are the ones that change the balance of power in a sport.
adidas tennis · Cincy Open · Tsitsipas · Wilson tennis
88 comments
<< My Interview with Apostolos Tsitsipas Before 2017 US Open