My Interview with Apostolos Tsitsipas Before 2017 US Open
Comments off · Posted by Scoop Malinowski in Scoop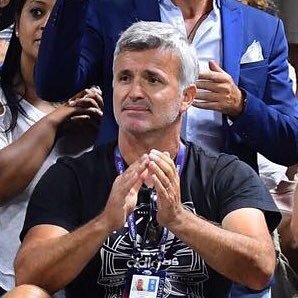 By Scoop Malinowski
Here is the second edition of our new #NEXTGEN Focus series on the 19-year-old Athens, Greece player Stefano Tsitsipas. Stefano is ranked 161 in the world right now and won his first round US Open qualifying match in three sets today against China's Wu.
Stefano's dad and coach Apostolos reveals insights into Stefano's first full ATP season after a standout ITF junior career…
"We started the year after an injury with a ranking of 210. At the first Grand Slam – Australian Open – I couldn't say he was very well prepared and he achieved a second round of qualies (Def. Gavin Van Peperzeel 62 62, lost to Bjorn Fratangelo 64 16 36). After that, we tried to reorganize ourselves," said Apostolos Tsitsipas at the US Open today. "It was a better preparation. And then we started to play the indoor season in Europe – Sofia, Rotterdam, Marseilles. Two wildcards into main draw. There we played good match with Tsonga. It was a good match (46 67 loss). But at the end of the match he felt a pain in his Psorias (groin area), a little bit injured. So we passed it, now he's top 160 I think."
"He qualified for Roland Garros (Wins over Otte, Sakarov, Fabbiano then loss to Karlovic in first round 67 57 46) and Wimbledon (De Joore, Hanfmann, Giraldo, lost first round to  Lajovic 46 46 46). Had some good matches there and good experience for the future. And I think now he's stronger physically. And I'm sure that by the end of the year, he has a lot more to give, much more than the beginning, for sure."
Tsitsipas has two wins this year against young Aussie Alex deMinaur, a win over Benjamin Becker and also a tight 64 46 76 win against top 50 Jiri Vesely in Rome. "He has some wins against top hundred guys. Still he has a lot of job to do. Now he has to build his body, he has to do the physical part more serious. He has to make better preparations. I think he has the game. It's not enough nowadays – the game has become so physical. Not only when you're stepping on the court to play the match, the Tour itself is so demanding – you have to defend always points, tournaments, it's crazy. It's a big discussion now. It's really exhausting for the players. It's exhausting for the top players. When you're talking about the younger player, that one coming from the lower ranking, they have to play more tournaments and it's really very, very tough. Very, very tough. And so that's why Stefano's body has to be 100%."
Tsitsipas, 2-7 in ATP main tour main draws this year, has played two Grand Slam main draws and is nearing the top 150. But the goals of Team Tsitsipas are more basic in nature. "Yes, top 100 is one of the goals for 2017. My opinion is win a lot of matches.  And perform. Perform his best. Learn how to perform. And if he learn how to perform his best, he will reach all  his goals. And the ranking, and the titles. And whatever is concerning the best for every tennis player."
No tags
Comments are closed.