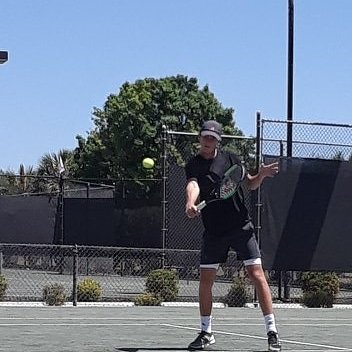 By Scoop Malinowski
After three sets of doubles on Longboat Key at 8:45 I decided to scooter over to check out the new site for the Sarasota Open which is now being staged at Laurel Oaks, a good 45 minute ride south west from Longboat.
The new venue is at Laurel Oaks Country Club, on the east side of interstate 75, so this year's Open should be more accessible to tennis enthusiasts in Tampa and closer to 75.
The first player I see is Yoshihito Nishioka on an outer court. He apparently elected not to use his protected ranking and is in qualies playing an Italian named Francesco Ferrari. Nishioka must be ranked outside 350 which is what the 8 seeded Jared Hiltzik is ranked. Nishioka handles Ferrari in straight sets but must play a second match of the day – against Uruguay's Martin Cuevas, ranked 271.
The big match of the day is the local kid Micah Braswell who is a wildcard. The sixteen year old Braswell lives in Laurel Oak and is coached by his dad Ty who played at Florida State. Young Braswell is a highly ranked American junior who made some noise at the Eddie Herr last year. He's playing a guy named Strong Kirchmeier. While the famous Japanese lefty Nishioka toils on an outer court with about fifteen people watching, the main show court is packed and Braswell is competitive but falls 64 63. Jimmy Arias often hits with Braswell and his younger brothers and he attended the match. After he told me Braswell acquitted himself well but he felt the teenager over did it at times, thinking because he was playing a guy ranked 600 in the world he needed to do more. But Arias felt if he just played his regular game he could have won the match.
On the practice courts are Evan King grinding with Mitchell Krueger and Michael Mmoh with Peter Polansky. Also the former world no. 27 Thomas Bellucci is doing drills with his coach, the recently retired Andre Sa. What stands out about Bellucci is how intense he is hitting his shots off Sa's feeds, grunting on every single strike. Bellucci also grunts when practicing his returns from the ad court off Sa's serve feeds from five feet inside the baseline.
Arias comes over to chat a bit with Sa and Bellucci because he's taking the court after them to hit with a local pro still trying to make "the show." Sa and Arias must be old friends because they share some good laughs and jokes and old time tennis talk that only the ex pros fraternity can have. They chat and chuckle about Andres Gomez forehand, Agassi's excuse for losing to Gomez in the French Open final, Jimmy's Tennis Channel commentating on women's college tennis and equal prize money.
I play a set of singles with an old friend Jason Liu who is a ballman for the tournament as he's been for several of the recent Sarasota Opens. While we play Sebastian Korda is hitting on the court next to us with an Indian doubles player Jeevan and his dad Petr on court making comments and observations. I like the way Korda coaches his son. He speaks with a calm absolute total certainty of what needs to be done. I can't understand Czech but I can tell Petr is a tennis wizard or Dr Frankenstein and his creation listens and responds and surely will go far in the ATP. Young Korda has an impeccable attitude on court and a maturity that certain American veterans should be inspired by. Korda plays Michael Mmoh in the first round in the main draw to play the winner of Kozlov vs Krueger in the second round.
After my set, I walk by court one again and am surprised to see Nishioka on court again, his second match of the day. He's playing Martin Cuevas from Uruguay, the brother of Pablo. Martin has the exact same game as his older brother and wears the same white Lacoste outfit. Cuevas breaks to go up 6-5. Boy, Cuevas is a heavy hitter and on this day he looks like a top 50 powerhouse, though his real ranking is 271.
Cuevas wins the set then goes up the early break in the second. Big man Cuevas is a monster, just ripping heavy HEAVY groundstrokes one after the other from each wing. And he doesn't miss. Nishioka looks like a midget in comparison and just can't withstand the constant barrages. Cuevas will not miss. Nishioka is in a bad mood and says to his coach after a point in the second set, "I'm never coming to this tournament again.'
Nishioka is surely annoyed that he's had to play two matches in one day. It's 88 degrees and very hot in the Sarasota sun. Cuevas seems to be playing to exhaust Nishioka and that's what he does. Nishioka, despite his verbal tapout, doesn't give up and tries his best and has a break point to get back on serve in the second set but he hustles down a drop shot and backhand it into the net cord. It's a killer of a point. When Cuevas holds and goes up 4-1, Nishioka retires. It's a big win for the Uruguayan who I think we will see more of in the future. Cuevas will have to beat Frank Dancevic to reach the main draw. Dancevic, who beat Italian Erik Crepaldi in straight sets, is ranked 325.
Nishioka still has a long way to get back to his old ranking of top 60 in the world after missing nine months due to the knee surgery he endured after last year's Miami Open.
The tournament director Tony Driscoll is happy with the new venue and ticket sales so far, the stadium court is sold out for the entire he week. This is a very nice little pro tennis tournament and if you are local in the area, you should pay a visit.
7 comments