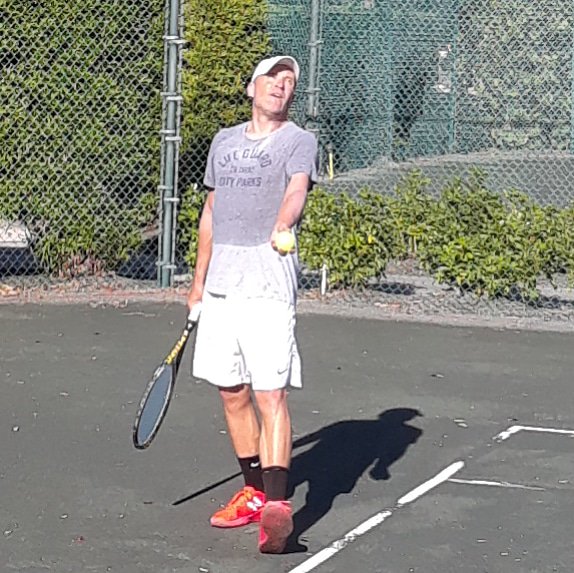 It rarely happens but occasionally it does happen that a tennis player can have a near perfect day on the court where they far exceed their own and their opponents expectations.
Today I had that day. It happened at the Longboat Key Club Resort against one of the toughest competitors in the area, a six-foot seven Czech who has big weapons and can grind out long points. We played five sets recently (all on Har Tru) the last month and every one was a dogfight battle, over an hour each, scores of 46 63, then 63 63, then 63 03. In five of those sets, I remember each of us only missed about three bad shots total. Every point was a war of ten to twenty shots, no errors, just patient smart deep tennis and going for the winner when the opening appeared.
Today I expected the same on our same Har Tru battlefield in southern Longboat Key. Marek elected to receive serve, so I served and hit the sideline on the very first point. He got the return back, I went cross court and then he hit a backhand that hit the back of the line. The very first point, we both hit lines. I thought to myself, here we go again, it's going to be another epic battle. Do I really feel like playing super hard competitive tennis for three more hours?
I ended up winning the game despite blowing a 40-15 lead, after one or two deuces.
In his first service game I also had two break points at 15-40 and then a third but he battled back and won the game for a 1-1 deadlock. I thought to myself again, here we go again. This is going to be another typical war, with both of us working extremely hard for every point, every ball. His forehand is huge, with his long arms and legs he can get out wide and reply with an offensive winner from the alley or beyond on the full run. He can also hit a running slice winner up the line. His backhand is a slice and topspin and he can get every ball back anytine, or throw up a desperate slice lob that drops on the baseline. How many times he's done that I can't even count. That's how tight and tough every point is. It's the kind of tennis that after it's over you feel everybody else you play is much easier to deal with. Nobody else raises my level and confidence like playing Marek. Once somebody next to us saw how hard we both were fighting and asked, "Are you guys playing for a million dollars?"
As hard as we compete, we have a good connection and friendship and respect each other and never do anything to provoke or annoy each other.
I held for 2-1. I remember feeling really good in this game despite feeling pressure. I was able to crank the inside in forehand up the line and go deep to his backhand. I was able to get him on the run and off balance. I made an overhead and a drop shot off a short ball.
I started to feel very good but not overconfident because he's fought back from 0-3 down and even larger deficits. He doesn't give up despite expressing frustrations by yelling and throwing his racquet on occasion. Two things helped me going into this week. I hit with Mi Lan for two straight weeks during Eddie Herr and Orange Bowl where she made the 14s quarterfinal and third round. She's one of the best 14 year olds in the world and playing with her every day sharpened my game. I felt more time today, not as rushed. And I have new shoes, the New Balance clay shoes which feel perfect, soft, good grip and I really like looking down and seeing these red runners.
The magic started to happen. Everything I tried worked. I felt smooth like Federer with my new serve motion, very cohesive and my serve percentage and accuracy was excellent. I could pull Marek wide on each side and then work the point. Deuce court, wide to his forehand, then wide to his backhand, then a forehand cross court winner right on the sideline. He just said, "Yep." This was on game point at 40-30.
He cracked a few inside out forehand winners, his big weapon, but I was able to neutralize that shot with deeper balls. His running forehand is a rocket and he can go up the line or cross court with it. He got one or two but I was able to neutralize that weapon too. He didn't manage to hit any of his lethal backhand slices down the line. I guess he was too off balance to get to use it. Or maybe he was off from only playing once since out last hit over a week ago.
I made every overhead and volley. I think I made everything and served it out at 30 for 6-1.
In the second set I expected him to regroup and get revenge, as he has done many times. He won that first point with a forehand winner but I won the game.
Then more magic happened. A drop volley winner. A volley winner behind him. And a shot I never hit before…he hit a short ball inside the service line, and I ran straight forward and somehow scooped it up about two inches from the ground with a forehand like side slice squash shot cross court that hit the side line. He just said, "Unbelievable."
Feeling like Federer at this point, there was another crazy shot from the same side of the court. He hit a forehand that hit the service line and popped high up very fast, over my head. I managed to react in time and hit like a serve from the baseline but it was a shank off my Volkl Tour 10 frame and it actually went over the net by about two feet, which Marek didn't even try to get. It was the luckiest shot I ever hit.
By this point in the match, Marek was talking to himself and constantly repeating the same words: Unbelievable…Unreal…Unbelievable…Unreal…Nothing is working…Forget about it…I can't do anything…Unbelievable…Unreal…This is the worst I've ever played in my life.
But between you and me, it was the near perfection of my game today and the accuracy and ball control and courage to go for my targets that threw his game off. Everything I hit was good, was where I wanted it to go. I can't remember one error. And even his best serves I got back with good returns. And even his best shots I could get to and either regain control of the point or go on offense.
Being a bigger guy at 6-7, I realized shorter slower balls at times get him off balance. Strong to his forehand, then rip a forehand up the line to his backhand. Then same pattern but then a slower shorter forehand to his running backhand. I had him constantly off balance and not knowing what was coming. When I went hard to his forehand I never missed one of those, and with good depth. Just a perfect day in the office.
The final score was 61 60, a scoreline that I never managed against him before in about 50 matches in the last three years. Will it ever happen again? I don't think so.
Today was my zone day. No double faults, one ace, three overhead winners, and by his count, nine or ten line strikes. And believe it or not, I did not yell one single come on or utilize any emotional adrenaline. I did not need to.
Maybe it was the inspiration of watching a week of incredible Orange Bowl girls 14s matches and hitting daily with one of them. Maybe it was the inspiration of one of the girl players (who my girl beat) from Canada asking me for my contact information because she was looking for a new coach? Maybe it was eating an apple and then a Gatorade protein bar 30 minutes before the match and an orange after the first set? Maybe it was hitting for a few minutes with a legend Hans Gildemeister last week? Maybe it was wearing my new Manchester United white Nike shorts for the first time?
I don't know what it was but today I was in the zone, not the Twilight Zone but the ultimate tennis zone where you actually feel like Roger Federer for about an hour.
Federer · Roger Federer · The Zone
9 comments