Focusing On Wimbledon Third Round Matchups
72 Comments · Posted by Scoop Malinowski in Scoop
By Scoop Malinowski
We're now into the stage of Wimbledon where each player has won two rounds and their game levels and confidences are rising. We're into the meat and potatoes of the tournament. The match-ups in the third round can make or break a tournament and in some cases, a career. Let's take a look at the third round matchups…
Federer vs Struff: Fed leads the series 2-0 but both matches were of the 64 76 variety, which suggests a shocker is possible. Struff has the firepower and the volleys to trouble Roger.
Mannarino vs Medvedev: The French lefty leads the h2h 2-0 and both wins were decisive straight setters.
Querrey vs Monfils: They've only met twice, 11 years ago on clay in Austria and two years ago in Washington DC. Monfils won both.
Anderson vs Kohlschreiber: Anderson leads 3-0 h2h and should continue his mastery of the German veteran.
Pella vs McDonald: First meeting between these two surprise third round debutantes.
Raonic vs Denis Novak: The big serving Canadian has a favorable draw and should be quite pleased to meet the winner of Macpella.
Isner vs Albot: Fourth meeting of the year for these two opposites. Albot won on Long Island but Isner has won the next two revenge encounters.
Tsitsipas vs Fabbiano: 35 ranked Greek won their only meeting in three sets at Roland Garros qualies last year.
Khachanov vs Tiafoe: Heavyweight match up of two fast rising forces. This first meeting could build into an interesting rivalry.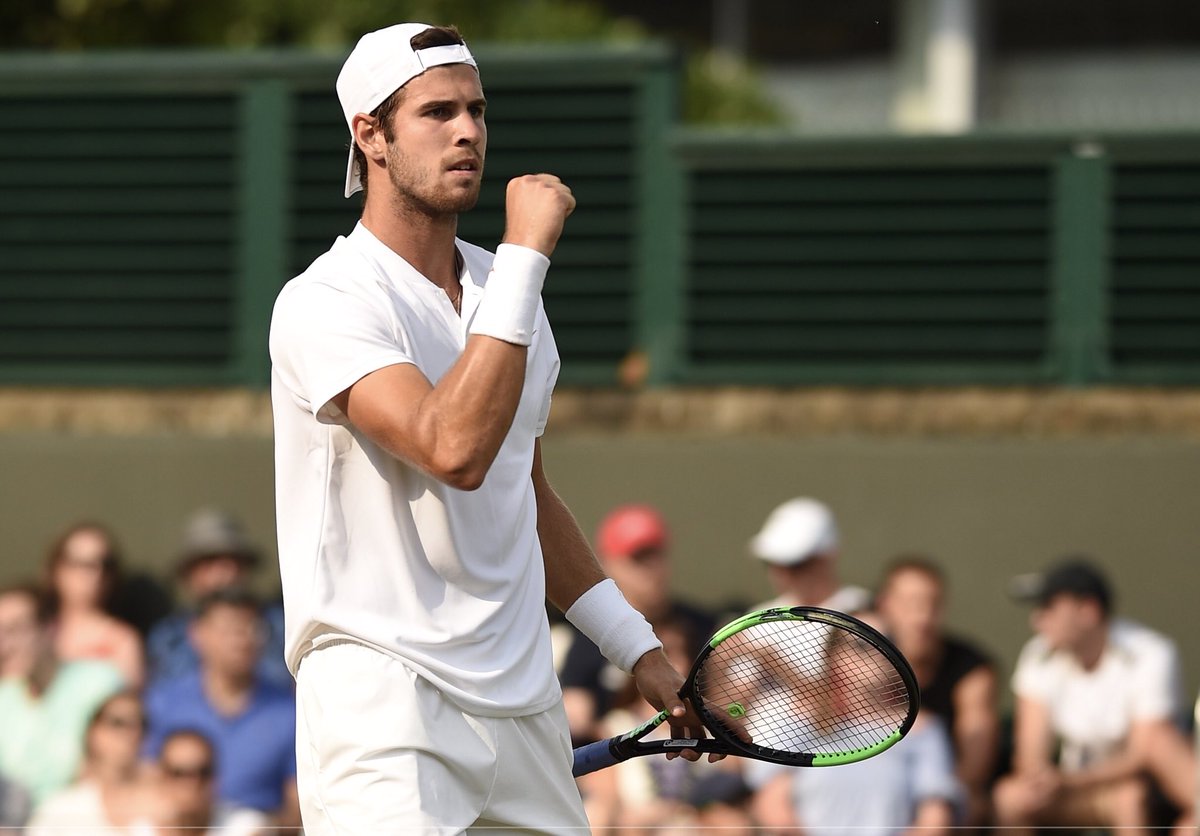 Edmund vs Djokovic: Nole won their first three clashes but Edmund won the most recent in Madrid this year 63 in the third.
Nishikori vs Kyrgios: Kei has won all three matches vs Nick, all in Masters Series events in 2016 and 2015 but this is their first meeting on grass.
Gulbis vs Fritz or Zverev: Gulbis is back on track after a career freefall which saw the Latvian lose to players ranked outside the top 400.
Del Potro vs Paire: Paire won their one meeting in Rome 64 76 five years ago.
Ebden vs Simon: It's ATP no 53 vs 51 and you wouldn't know it but the higher ranked Ebden leads the h2h 2-0, with a win last year in Miami and seven years ago in Shanghai, 76 and 75 in the third.
Vesely vs Fognini: Fog is 3-0 vs the lefty Czech including a straight set schooling last year at Wimbledon.
Nadal vs deMinaur: no. 1 vs 80, veteran super champion vs 19 year old wonder boy. The Demon backs down to no one and surely will give Nadal all he can handle. Lleyton Hewitt knows how to motivate this kid who is a natural born fighter.
72 comments