Del Potro's Highest Gear: The Ultimate Tennis Colossus?
63 Comments · Posted by Scoop Malinowski in Scoop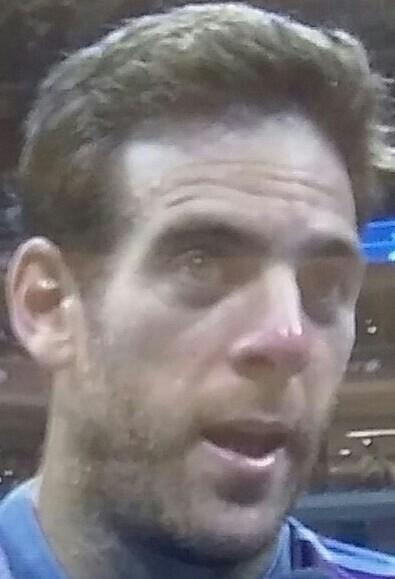 By Scoop Malinowski
Juan Martin Del Potro only infrequently shows his highest gear of tennis might. It comes and goes like the wind, for a match or two or a tournament, then it dissipates until reappearing later. The cycle has been a constant of the Argentine's unique professional career which began in 2005.
The first burst of Del Potro greatness was at the 2009 US Open final where the 20-year-old toppled Roger Federer in five sets. Looking back, it's hard to believe a 20-year-old could beat Federer in his first Grand Slam final but Del Potro has always been an extraordinary player.
We have seen flashes of his unbeatable level of play, the domination of Nadal in Miami and the pummeling of Djokovic at last year's Olympics come to mind first. There were many others.
When Del Potro is at his best level, his serve is nearly impossible to play and his forehand is quite possibly the all time most potent weapon in tennis history.
Last night we saw Del Potro's forehand make Federer look helpless for much of their four set match. It wasn't a matter of Federer playing poorly or even slightly subpar. Federer looked superb the entire match but he was thunderstruck by Delpo's highest gear last night and it provoked insecurity and stunning errors to crop up at key moments in the match. I believe the missed volleys and overhead at the end were caused by the extreme pressure that Del Potro's level of ball striking put on the Federer usually rock solid psyche.
Del Potro looked unbeatable last night. Not even Federer's finesse and trickery had any effect. Federer admitted after that Del Potro "was better."
Though it's impossible for anyone to prove or disprove, it could be a plausible truth that Del Potro's best tennis is simply superior to the best level of Federer, Djokovic or Nadal. Or any player in tennis history.
63 comments