Fun Facts: Yoshihito "No Doubt" Nishioka
4 Comments · Posted by Scoop Malinowski in Bios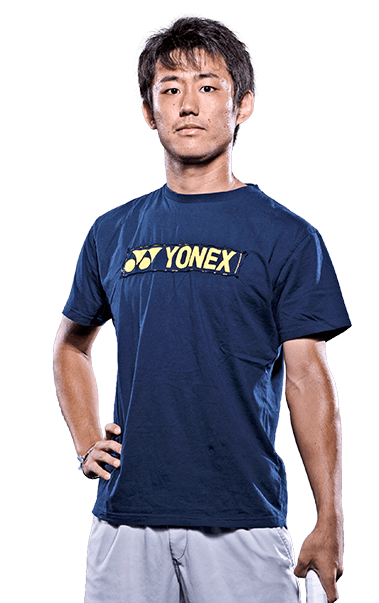 Yoshihito Nishioka is officially now a force to be reckoned with after his recent quality duels against Jack Sock (three set win), Rafael Nadal (tight two set loss), and yesterday's incredible win against Tomas Berdych (despite a 1-6 2-5 deficit). Here is a collection of quotes and facts about this new, 21 year old left-handed Japanese sensation.
Nishioka said Nick Bollettieri told him to model his game after former ATP No. 1 player Marcelo Rios, because the Chilean was short and left-handed like the five-foot-seven-inch tall Yonex sponsored athlete.
Asked if he eventually wants to lead Japanese tennis like Nishikori is currently doing, Nishioka responded, "No doubt."
"And my dream is to win a Grand Slam. I know I'll eventually play against Nishikori. I want to be like a presence like him. I want to even do better than he has done."
Yoshihito revealed that he has read some books on brain science and sports psychology.
Nishioka said that few around him believed he could become a top-150 ATP player when he turned pro in 2014 because of his size disadvantage, which often results in a power shortage on the court. It didn't discourage him. Nishioka says he is hard-nosed and that those low assessments actually lit a fire in his heart. "I wanted to prove them wrong," said Nishioka, who captured the gold medal in the men's singles competition at the Asian Games in Incheon, South Korea, two years ago. "And to be honest, I thought that I could do it. I believed I could do it."
Nishioka said that he benefited from the environment at IMG Academy. He was able to practice with so many different types of players from all around the world at the private boarding school in Bradenton, Florida, which has seen a "who's who" of elite players, including Andre Agassi, Serena Williams and Maria Sharapova, pass through. "It's a special place. There's so many players there. Professional players come, too. Because you have so many there, you can practice with different players every day, losing a lot and winning a lot." Nishioka said that he played against such notable players as Tommy Haas, Filip Krajinovic and Nishikori among many others.
Nishioka, whose father runs a tennis school in his hometown of Tsu, Mie Prefecture, first picked up a tennis racket at the age of four and has devoted his life to the sport ever since. But he admitted that his time at IMG Academy, from the age of fourteen until he turned pro at eighteen in 2014, was one of the most significant factors in making him a NEXT GEN international prospect.
Nishioka shocked Berdych yesterday at BNP Paribas
4 comments