Raonic Practice Delivers Surprise Scoops
40 Comments · Posted by Scoop Malinowski in Scoop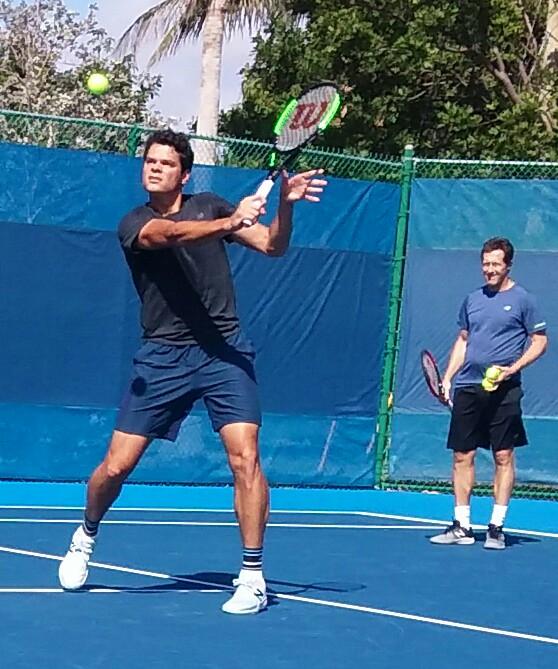 By Scoop Malinowski
I had an appointment to meet Jonas Bjorkman this morning after the practice of his man Milos Raonic on one of the outer practice courts.
Raonic is still in Delray Beach, working on his game with his team which now consists of the former top ATP player Bjorkman, Djokovic's ex physio and another man I did not recognize.
Raonic hit with a local USTA junior named Diego for over an hour. They did the normal baseline hitting, volleys, overheads, serves and then semi points with Raonic serving, sometimes hitting the first ball back, sometimes watching it pass by. It looks like Raonic is still far off his peak game, as he should be expected to be giving how much time he missed last year due to assorted injuries.
The other junior hitting partner for the week for the ATP draw players came by to visit his pal Diego. His name is Dylan. I asked what he learned from the experience of hitting with ATP pros for the first time this week, all week long.
His reply: "Seeing how professional they all are, how hard they work and how much effort they put into preparation in the locker room. Like Raonic did fitness and stretching for an hour in the locker room to get ready for this practice. Evgeny Donskoy does fitness all day long in the locker room, then he plays his match."
Dylan said the balls of the ATP players were different than anything he ever saw from Oliver Crawford or Patrick Kypson, two top juniors he has hit with in the past. "All the players I hit with hit soft for the first five minutes then they start to hit a totally different ball, much heavier, much stronger. Robert Lindstedt hits a really heavy ball."
Then a SWAT team police officer came by to check out Raonic hitting. It turns out the officer is a former junior player from Long Island named Brett Gordon, who has played against Noah Rubin and Donald Young in his USTA days. Gordon said Rubin is "extremely fast" and comes from a really nice family. Young was "really explosive" and hit a massive ball in his teen years.
After Raonic finishes with Diego – they did not have any interaction or conversations that I observed – Raonic continued to work with Bjorkman, with the two physios keeping an eye on everything. Bjorkman set up balls to feed from the service line and stationed Raonic to hit inside out forhands and up the line forehands. Then another batch of balls for both forehands and backhands. To simulate core baseline points. Then Bjorkman wanted Raonic to work on volleys so he fed him about 25 straight almost rapid fire shots to his body and Raonic had to volley.
At the end of the practice, Jared Donaldson's father and physio showed up and a few minutes later Jared arrived. He lost a close three setter to Denis Shapovalov yesterday. As Raonic sat in the corner of the court with his team in the shade, he watched Donaldson set up the footwork ladder apparatus and asked Donaldson something about where he was going next and then something about the availability of Tour level hitting partners in Los Angeles. Donaldson spoke to Raonic from a distance of about 20 yards, keeping his distance. As he spoke, Raonic and all of his team listened to and watched Donaldson, as if to gauge what kind of person he was, if he was intelligent and if he could be a threat to Raonic in the future.
Donaldson was nice to them but he kept a distance to not lose focus on his main intention on the day – "to work on fitness" as his father told me, hence why coach Jan Michael Gambill was not at the practice but still at the hotel.
Donaldson is a lanky but strong looking kid. Very serious, very focused and very driven to succeed. He did each footwork drill that his physio instructed, exactly how he was told, with no nonsense and no lack of interest or enthusiasm.
Finally, Raonic and his team left and Bjorkman kept his promise to talk about Facing Marat Safin, asking me if I did the research and checked the head to head. I admitted I did not, being too busy and asked for his forgiveness and then he proceeded to answer my questions, informing me that he played Safin several times and sharing his memories of the Russian dynamo who he said he always had to be on his toes and alert very early against because Safin was so potent and dangerous. Bjorkman said he played some of his best tennis against Safin.
40 comments