US Open Notebook: Who Stole Patrick Rafter's Rolex?
Comments off · Posted by Scoop Malinowski in Scoop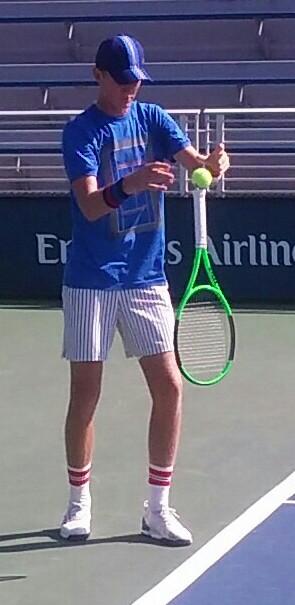 By Scoop Malinowski
Yesterday I left home at 9 am and the drive to the Open through New York City and Queens was the all time easiest trek I've ever had in twenty years of covering the tournament. I made it to the National Tennis Center in exactly 31 minutes where sometimes the same trip can take almost two hours.
The good start certainly was an omen for an excellent day. Right off the bat I got to see players practicing including 17-year-old American Sebi Korda with his good friend Patrick Kypson. It was a light-hearted practice featuring a lot of fun, like Sebi Korda trying a trick serve by resting a ball on his Wilson butt end before dropping the racquet straight down to the ground which would pop the ball straight up which then he would quickly grab the racquet and actually hit a serve. The problem was if the drop was not perfectly straight down the ball would not bounce straight up, it would veer off. Korda had many wrong drops but twice he did get the ball to launch upward like a racquet and he did actually hit a serve but both hit the net cord.
Petr Korda is a funny man. He likes to have fun and is constantly seeking humor. He saw a cane that someone left in a bleacher, but I could not understand his comment. Dean Goldfine, Kypson's coach, suggeested a game to hit the O target in Open on the backwall from across the net. Korda lined it up and barely missed the first two. Then he stared at the target an extra five seconds for focus and again came close.
Kypson didn't play too wella nd got bombarded in straight sets by George Loffhagen of Germany while Korda bested Brit Jack Draper in two sets.
After the practice Petr Korda shared his Facing Sampras memories which were abundant as they played seventeen times with the 1998 Austraian Open winning five of their battles. Interestingly he said an early Stockholm indoors clash was the most memorable because it was the key to teaching Korda how to compete with and beat Pete. Petr shared intricate tactical strategies that were successful such as block returns which Pete was uncomfortable with.
The best junior to my eyes yesterday was not the top seed Axel Geller of Argentina but unseeded qualifier Jakub Paul of Switzerland who defeated 14 seed Thiago Seyboth Wild of Brazil. Paul is a grooved baseliner who has perfect form and can really blast the ball and especially when he has a target plus he moves around the court like a cat. he has a mechanical way of moving but he's ultra speedy. I'm curious to see how this player proceeds in the draw.
Geller looked very good on court 17 beating Andrew Fenty, the son of the ex mayor of Washington DC but I didn't see anything special there. But then again I didn't see anything really special about Juan Martin Del Potro the first time I saw him live as a teenager in Washington DC. But Del Potro played one of this all time matches yesterday in rebounding from a 61 62 deficit to Dominic Thiem on grandstand with a five set win which was the most electrifying moment of the fortnight so far. The grandstand had about 99% Argentines willing their hero on and that's what happened. No player can inspire or feed off of fan support like Del Potro who now faces Federer in the quarterfinal.
Alexander Dolgopolov has two career wins against Rafael Nadal but yesterday he took a three set pounding. But I'm not quite sure if the beating Dolgo endured was as punishing as the media questions the Ukrainian faced from the media about the recent alleged gambling controversy about his strange match with Monteiro in Winston Salem. At one point Dolgo was asked if he was ever approached by gambling figures to throw a match and he did not give a decisive NO answer, leaving the assembled reporters even more suspicious. As one journo from Great Britain told me at lunch, "Dolgopolov's defense was far from convincing."
The doubles match of the day was Su Wei Hsieh and Monica Niculescu vs Timea Babos and Andrea Hlavackova on court 17. Hlavackova and Babos were down 0-40 in Hsieh's opening service game but won five straight points and raced to a rout of the first set at 6-2. Niculescu was the weak link with her slice forehand and missed volleys killing their chances.
Babos-Hlackova took the early break in the second 3-1 and seemed to be in control with their superior power game. But Hsieh and Niculescu hung in there and kept it a one break set. The Indian guy next to me thought the power advantage was too much for the slight Hsieh and Monica to deal with but as they dodged the second break and kept within striking distance at 4-3, I sensed that they could level it as the power shots would go astray, which they did.
Hsieh is just a marvel of a player. She is the skinniest and weakest player in the WTA but she has magical hands and feel with her Yonex. She told me after in a Biofile that she got to the top ten in doubles and top 80 in singles without a coach. Of course, with a coach – Paul McNamee – she became no. 1 in the world in doubles winning two majors in Paris and Wimbledon.
At the end of the second set she didn't miss a ball. She outhit and found angles in baseline cross courts battles to force errors and she made every single volley. They won the second set tiebreaker 7-2 and jumped to 3-0 in the third. I returned to the match at 6-5 in the third. They lead 5-2 in the tiebreaker but Hsieh suddenly missed a cross court rally ball wide for 5-3 and then Niculescu missed a volley into the net. Next thing you knew, they had lost five straight points and the match. Hlackova and Babos both dropped their racquets in joy and awe when Niculescu's last error long ended the epic see-saw battle. It looked like they had won the title and $675,000 but they're only into the quarterfinals where they will play Mirza and Peng.
At dinner I noticed a former Grand Slam semi finalist eating at a table by himself. This former player is now a full time journalist for Belgium's largest newspaper. Filip Dewulf is one of only four players in history to reach a major semifinal as a qualifier which he did in 1997 at Roland Garros, losing to Kuerten 76 in the fourth. The others to do it: McEnroe, Volchkov and an Aussie in the 1977 Australian whose name I didn't recognize.
DeWulf wrote a book after his career and shared memories of practicing with Sampras and the huge fame of Agassi. Once in Barcelona, Agassi was so popular he couldn't show up at the club, other than for matches. His appearance stirred too much excitement. DeWulf remembers being on the same hotel floor as Agassi and seeing a pile of empty pizza boxes outside his door.
DeWulf never played Agassi or Sampras though he did practice with Pete a few times. His memory was that Pete only wanted to hit balls for an hour. At the end Filip requested to play one tiebreak so he could get more out of the practice. Pete replied, "Really?" Pete then stepped up his game and won 7-0.
DeWulf said his very best win and perforamnce was a 63 62 63 win against Enqvist at 1998 Roland Garros R 32. DeWulf got to 39 in the worldin the rankings and won two ATP singles titles, in Kitzbuhel ('97) and Vienna ('95). In case you thought his 97 run to the semis was a fluke, it was not. He reached the 98 quarterfinals with wins over Larsson, Martelli, Enqvist and Clavet before losing to Corretja who he had beaten the year before on a windy day.
DeWulf said he played Rios twice and lost both times like 61 62, he said Rios played too fast and he just couldn't do anything. He also trained with hewitt once in Belgium in winter when Hewitt was there visiting his then girlfriend Kim Clijsters in 2001 or 2002. He lost their set 76 but said he really didn't see anything spectacular or very special from Hewitt other than his speed and super consistency.
Another story I was told happened in the locker room in the late 90s. Patrick Rafter came back to the locker room and just left his open bag on the floor by his locker without asking an attendant to store his belongings into his locker – only attendants have the keys and the player must tell the an attendant to open his locker. Rafter dropped his bag and then left for three hours. When he returned he noticed his Rolex, which was in his bag, was missing.
Rafter told the manager about it and  was assured that there was no chance an attendant would have stolen it. Rafter was also told that he should have asked the attendant to open his locker and put his bag away and not leave it on the floor wide open for three hours. Rafter accepted the explanation with class and cool but the thief of the watch was never found. The unsolved mystery remains: Which ATP player or credential wearing visitor in the locker room stole the watch?
No tags
Comments are closed.