TAG: Swede won the British Open last year
Comments off · Posted by Scoop Malinowski in Bios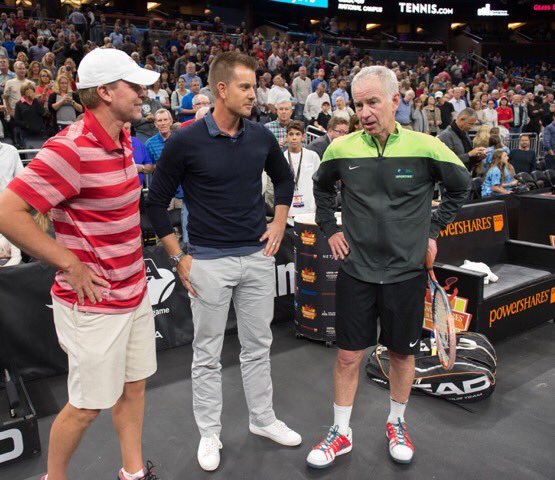 (Henrik Stenson is flanked by fellow PGA golfer Steve Stricker and John McEnroe in Orlando.)
One of the best golfers in the world was a keen observer at the recent PowerShares senior tennis event in Orlando, Florida. Henrik Stenson, the 2016 British Open winner and Olympic silver medalist at the Rio Games, sat in the front row for all the matches and also even stepped on the court to show his tennis skills during a hit with John McEnroe.
Stenson answered a few questions about tennis…
Question: Why do you love tennis?
Henrik Stenson: Â "I guess it's… I've always been very fond of match play in golf when we have the opportunity every now and again to play that. Tennis is like that every day. Every match you play against an opponent and you just gotta do better then him. Growing up I watched a lot of the Swedes, of course Bjorn (Borg) and Stefan (Edberg) and Mats (Wilander) and all the others doing well at the Grand Slams. Tennis has been, as a Swede, it's always been close to my heart."
Continue to read full article...