Thiem Mystery, From Grand Slam Kingpin to Ordinary Player
4 Comments · Posted by Scoop Malinowski in Bios
By Scoop Malinowski
We all remember Dominic Thiem as the explosive, dynamic, machine like baseline terror who could beat any player in the world on clay or hard courts. But Dominic Thiem at his best is now a distant memory. He lost again today in three sets to Bolivian journeman Hugo Dellien at Roland Garros. He's now 0-5 this year, unable to win a match in his comeback from an injury, illness and misfortune. Thiem has lost ten matches in a row overall.
The last match the Austrian played before the injury hiatus was a retirement loss in Mallorca at 5-2 up vs Adrian Mannarino. At the time Thiem was ranked no. 4 in the world.
Now he's ranked 190. The ATP rankings math makes little sense. Roger Federer hasn't played since losing at Wimbledon last year and he's still ranked in the top 50.
The Thiem situation is odd. This is a guy who has won over 300 ATP matches and 17 ATP singles titles and nearly $29m in prize money. But now at age 28 he can't win a match. It's like he's been zapped of his super powers or something.
Thiem began the 2021 season at the ATP Cup, Team Austria was beaten in the group stage. Thiem lost his opener to Matteo Berrettini, and was a set up when Benoit Paire had to retire due to injury in his second match. At AO Thiem reached the fourth round by defeating Nick Kyrgios, coming back from two sets down to win in five sets. In the fourth round he was defeated by Grigor Dimitrov in straight sets. Thiem's next tournament was in Doha where he beat AO surprise semifinalist Aslan Karatsev in three sets before falling to Roberto Bautista Agut. The Dominator then lost in the first round of Dubai to Lloyd Harris.
Following these losses Thiem decided to take a break from ATP competition to "recharge" and recover from a knee injury. Thiem said he's been totally dedicated and committed to tennis since his teen years and he needed time off. Then his first tournament back was in Madrid where he reached the semifinals by defeating Giron, de Minaur and John Isner before losing to Alexander Zverev 63 64. At Rome Thiem beat Fucsovics and then lost to Sonego. In Lyon lost his first match to Norrie. At Roland Garros, Thiem lost in the first round to journeyman Pablo Andujar in five sets, despite being two sets up 64 75 36 46 46. Before that loss Thiem was 3-0 vs Andujar without losing a set.
Because of his struggling form and poor results, Thiem announced his withdrawal from the Olympics in Japan. Then he played Mallorca and while leading Mannarino 5-2, he retired because of a right wrist injury. He also dropped out of Wimbledon and then in mid August Thiem announced his 2021 season was over, citing the wrist injury again.
Thiem was supposed to come back in December at Mubadala but withdrew for more recovery. He was also supposed to play 2022 AO but again withdrew for more recovery. Thiem then wanted to play Cordoba but again had to withdraw due to a finger injury. Thiem was training in Miami and intended to return for Indian Wells and Miami but again had to cancel that plan – for more recovery.
Finally Thiem returned at Marbella Challenger and lost to Pedro Cachin, it was his first match in seven months. After the loss he tested positive for the virus and had to pull out of Monte Carlo. Thiem then lost first round at Madrid to Andy Murray and he fell out of the top 150. Today's loss to Dellien was another disappointment.
It's puzzling how Thiem at age 28 has been beseiged by so many injuries and ailments and illnesses suddenly, which has thwarted the career of the 2020 US Open king.
Thiem's career fall off reminds of what happened to Juan Carlos Ferrero. Ferrero won the French Open in 2003 but then his career crashed in 2004 at the age of 24, he got the chicken pox and had to take a month off, then another month for more recovery and recuperation. Ferrero was never an elite ATP player again.
It's a strange phenomenon how these top quality but not quite hugely sellable and marketable ATP champions suddenly get hit with a streak of bad luck like a lightning bolt and then their careers just crumble. Sadly it looks like Dominic Thiem's best days are not ahead but far behind him.
Thiem remains optimistic:
PATIENCE THE KEY FOR THIEM TURNAROUND
SUNDAY 22 MAY 2022 – ALEX SHARP
The two-time Roland-Garros finalist continues to search for a match-win this season.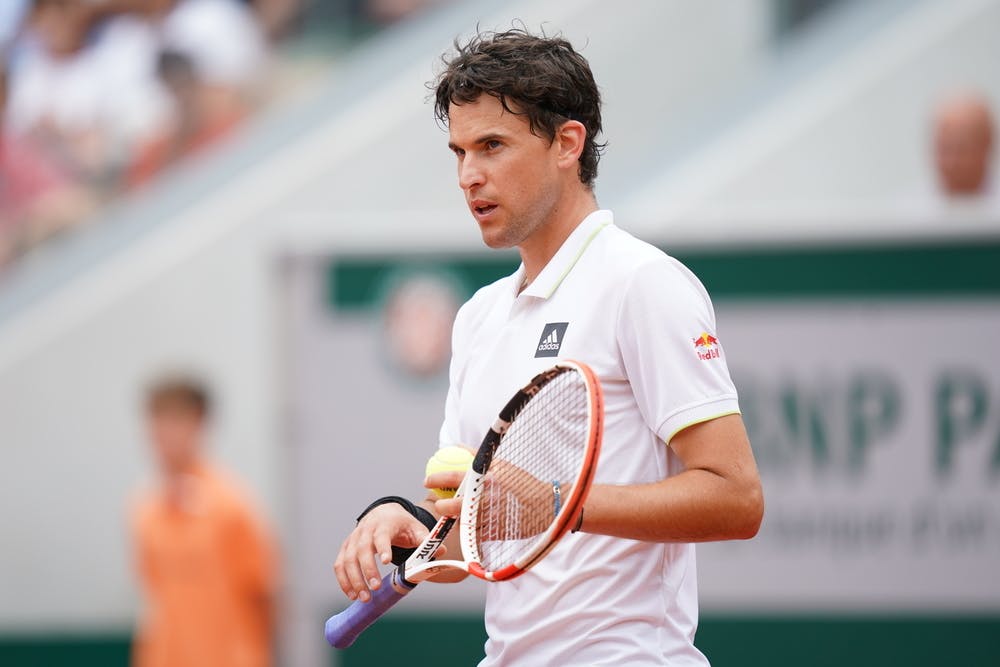 © Nicolas Gouhier/FFT
Dominic Thiem is well aware he's on a long road back to the upper echelons of the game.
The 2020 US Open champion, a Roland-Garros finalist in 2018 and 2019, had been within striking distance of another Grand Slam title.
However, a right wrist tear sidelined the Austrian for 10 months from last June, dismantling all his progress and belief.
Without a win since Rome 2021 a year ago, Thiem has now fallen at the first hurdle for the second successive season at Roland-Garros. On Sunday, world No.87 Hugo Dellien had all the answers to nullify the former world No.3 with a 6-3, 6-2, 6-4 win on Court Simonne-Mathieu.
Patience is the buzzword.
"I knew that it's going to take time, that the level is extremely high from all the players competing here and I'm not there yet," admitted Thiem, now on a run of 10 consecutive defeats.
"I have to accept it and even though it was a really painful defeat, week after week, still nothing unexpected happened. If I would have won many matches or whatever, it would have been a big surprise. So it's painful, I'm very disappointed, but it goes on."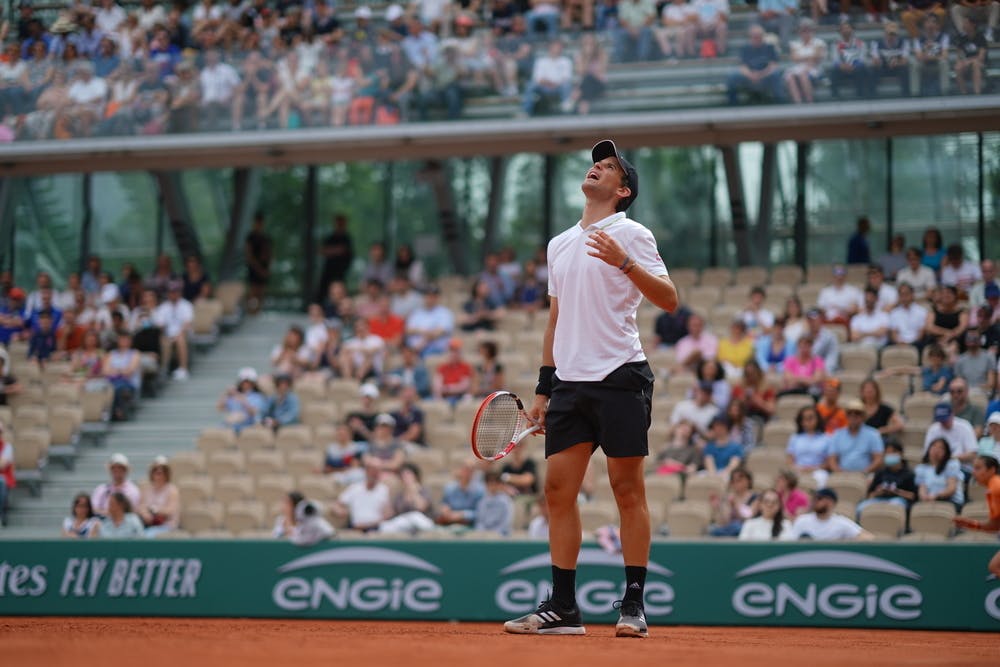 Nicolas Gouhier / FFT
Working things out
Fortunately, the 28-year-old avoided surgery and is playing pain free with "zero physical issues," but even going back to basics, practice isn't providing the platform for success.
"It's also not the greatest feeling to go in a Grand Slam match or ATP match knowing in the back of the head that things are not perfect in practice," continued the current world No.194.
"So I cannot expect that it happens in the game. The first step is going to be that it's working day-to-day perfectly in practice and then try to make the transition into the game."
Thiem is convinced that there is a multitude of factors contributing to his winless run.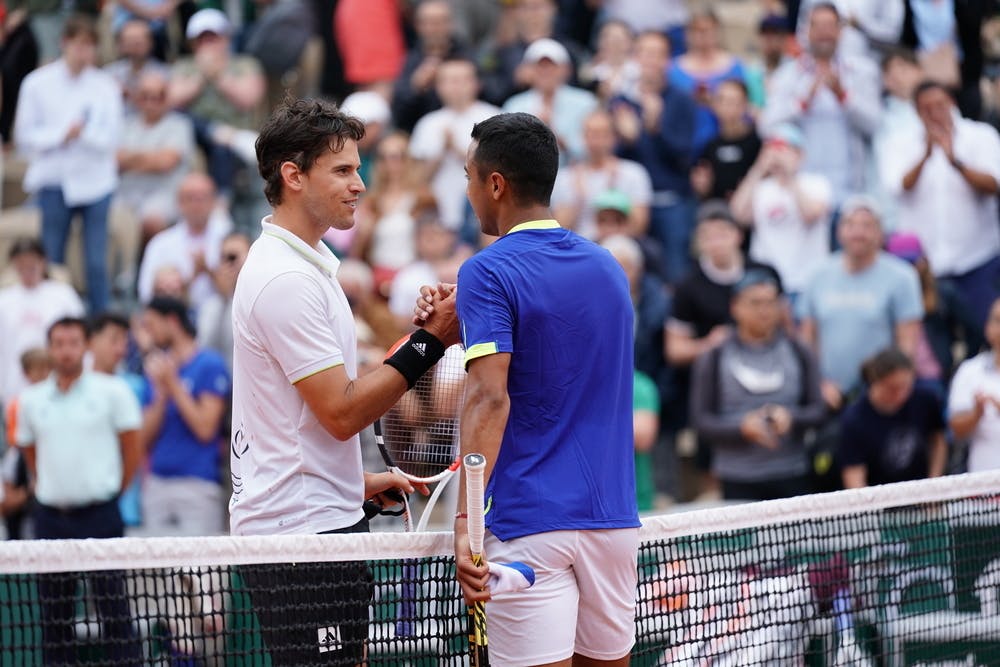 © Nicolas Gouhier/FFT
"I'm obviously a little bit more tight, more nervous and right now that's toxic to my forehand because I'm still missing the fine feeling there, I'm missing it a lot," continued the Austrian, who couldn't chalk up a single break point against Dellien's delivery.
"But I'm not missing one specific thing, [there are] many things actually. Obviously, there's not enough power yet in my shots and it's not only the forehand, I have way too low percentage of first serve, the first serve is not hurting enough.
"The backhand is okay, but as well it's not long enough, it's not fast enough. Then sometimes I do really stupid decisions during the rally, drop shots or down the line at the wrong moment and then also match situations I'm not playing well, where I'm thinking, 'what the heck is happening?'
"It is what it is and it's going to take time until it's fine again."
"I knew that it's going to take time, that the level is extremely high from all the players competing here and I'm not there yet."
"I have to accept it and even though it was a really painful defeat, week after week, still nothing unexpected happened. If I would have won many matches or whatever, it would have been a big surprise. So it's painful, I'm very disappointed, but it goes on."
Austria · Dominic Thiem · Juan Carlos Ferrero · Roland Garros
4 comments