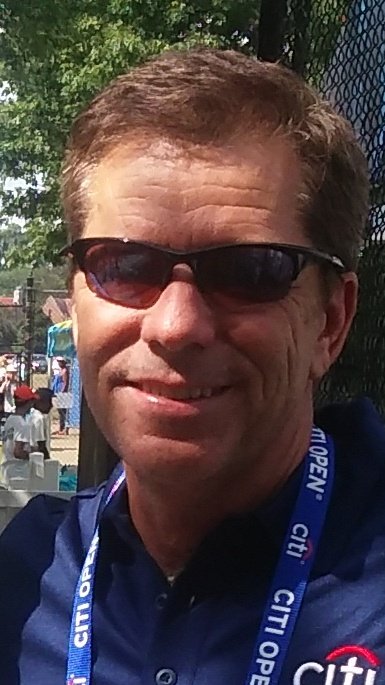 By Scoop Malinowski
A realization dawned on my last night watching the Tennis Channel's Down Under coverage. Jimmy Arias is the best TV commentator in the business.
Last night Jimmy was in the studio with Lindsay Davenport and Steve Weissman doing the pre-match discussion and he shined brightly.
He made several memorable quotes and comments that I remembered hours later which inspired me to write this article. One of the qualities Arias has is he will poke the viewers with the truth even if it veers from the narratives the media wants to promote. Talking about Frances Tiafoe's progress, Arias noted his talent but added that he's an inconsistent player with inconsistent results and it may keep him stuck where he is in the rankings, around the 50 range.
Then during the Steve Johnson vs Leonardo Mayer match in Sydney, with the Argentine up 7-5 and on serve early in the second, Arias commented that he felt Johnson needed to change up his tactcs and he should try serve and volley or a kick serve and come in because "Mayer was winning all the baseline rallies." And it was exactly that – Maywe was the superior player from the baseline and rolled to the straight set win.
Later they talked about Diego Schwartzman and if the diminutive Argentine could duplicate his superb 2018 season which was highlighted by very nearly cracking the ATP top ten. Arias wasn't so sure he would bet on that happening but added that when Schwartzman is playing well he could even outplay Rafael Nadal on clay as he was doing at Roland Garros last year, reminding us that the little powerhouse was actually beating Nadal on clay.
It's these kinds of sharp, astute, clever and witty comments that make Arias stand out. While most of the commentators sound at times like publicists and cheerleaders, Arias will give viewers a dose of reality. It happened again when Davenport was crowing about how great the qualies are for the fans, how they get to see qualies matches and players practicing. Arias reminded us that it's not so fun for the players trying to qualify by winning three matches as it's a difficult task.
You just always get a feeling that your getting the truth from Arias, not any kind of agenda or piffle. The straight truth softened with some tact and some extra sugar coating if need be. This keeps the other analysts in line and sharp and honest because Jimmy is such a master, they don't want to look like a shill.
Arias has been to the top of tennis and devoted his life to the sport. He was top ten in the world, he's won titles, he's played on the biggest courts in the world, he's competed against the all time great champions, he even won a mixed doubles major as a teenager at the French Open. He's coached college players, he's played on the senior Tour. Arias has been there and done that. With his professorial or even doctorly demeanor – you can easily envision him dressed in a surgeon or dentist's white outfit diagnosing a necessary operation and it's intricacies – Arias is in my opinion the very best in the business right now when it comes to talking about professional tennis, the players and analyzing matches. And he has a friendly, engaging voice which you like, with no hint of arrogance or smugness. And he won't sit there spouting one cliche after another, like about hitting big targets and trusting the process.
Arias, who was hired as the new IMG Director of Player Development late last year, is the very best in the TV tennis business right now. And he's already making a major positive impact on improving the Tennis Channel broadcasts with his unique perspective, sense of the action and a sense of humor.
I still remember a tennis friend of mine and myself discussing how Arias was one of our favorites to listen to on TV and I asked this person why he liked Arias so much and he said he liked his match analysis and the fact he's funny, citing one episode where Arias was commenting on Nadal's $400,000 watch and he added that his $15 dollar Seiko works just as well.
24 comments