British Open Champ Henrik Stenson: "Tennis is close to my heart"
Comments off · Posted by Scoop Malinowski in Bios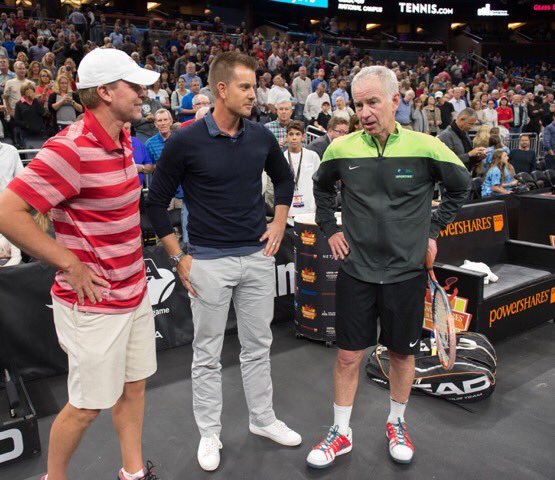 (Henrik Stenson is flanked by fellow PGA golfer Steve Stricker and John McEnroe in Orlando.)
One of the best golfers in the world was a keen observer at the recent PowerShares senior tennis event in Orlando, Florida. Henrik Stenson, the 2016 British Open winner and Olympic silver medalist at the Rio Games, sat in the front row for all the matches and also even stepped on the court to show his tennis skills during a hit with John McEnroe.
Stenson answered a few questions about tennis…
Question: Why do you love tennis?
Henrik Stenson: Â "I guess it's… I've always been very fond of match play in golf when we have the opportunity every now and again to play that. Tennis is like that every day. Every match you play against an opponent and you just gotta do better then him. Growing up I watched a lot of the Swedes, of course Bjorn (Borg) and Stefan (Edberg) and Mats (Wilander) and all the others doing well at the Grand Slams. Tennis has been, as a Swede, it's always been close to my heart."
Q: Your favorite players to watch?
Henrik Stenson: Â "Federer and Nadal, of course. But I just love watching good tennis. And where ever we're at and there's a tournament on the telly, I normally glance a little bit and have it on in the evening. At the Scottish Open this year I watched quite a lot of Wimbledon. It's good fun. And it was nice to get the opportunity – Jim (Courier) invited me here to come out here tonight. So, good fun."
Q: Do you remember the first famous tennis player you ever met?
Henrik Stenson: Â "Oh wow…I guess in person it would in Dubai in 2007. We were at a dinner and John McEnroe came in, Bjorn was there, he was very polite. I probably spoke more Swedish to Bjorn than I did with John [smiles]. We had an enjoyable dinner. He remembered me (tonight) so I guess I must've done something right."
Q: How is your tennis game coming along? You looked pretty good hitting with John…
Henrik Stenson: Â "I probably overreached by 200% here. I haven't touched a racquet for probably over four years. I wasn't quite sure what to expect hitting with John. I thought I did pretty good given that I never play the game really. I just picked it up. I never really played it as a kid, I never played organized tennis, I never had lessons, so I'm just going on timing and bit of feel. And it seemed to work out pretty well today."
Q: You're rallies were pretty even with John. (Stenson looked like an advanced player bending his knees with good form and hitting penetrating ground strokes with impressive pace.
Henrik Stenson: Â "It's good experience. We need to play in pretty good shape as well, as golfers. And I'll have a few rallies with Jim when he's back home at Lake Nona."
The 40-year-old Stenson was born in Gothenburg, Sweden. In his career, Stenson has won five PGA Tour wins and 19 overall pro wins. He won last year's British Open at Royal Troon and the silver medal at the Rio Olympics last summer. He also finished fourth at the 2014 US Open and third at the PGA in 2013 and 2014. Stenson is the first male Swedish major champion and a two-time European Tour Golfer of the Year (2013, 2016). Stenson, who attended the University of South Carolina, recently launched Henrik Stenson Eyewear. Follow Henrik on Twitter and Instagram.
Swede won the British Open last year
Comments are closed.
<< Longtime Tennis Announcer, Doug Adler, Fired by ESPN for Describing Venus Williams' Tennis as the "Gorilla Effect"