Bouchard Blasts Sharapova in Madrid
53 Comments · Posted by Scoop Malinowski in Bios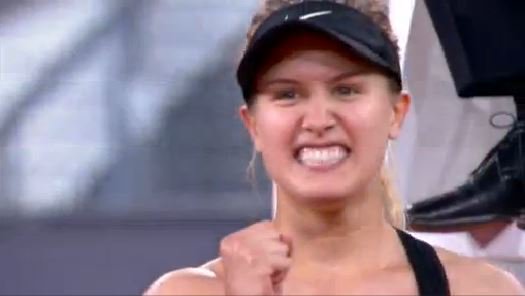 Incredible display of women's tennis today in Madrid with Eugenie Bouchard prevailing in a vicious contest over rival Maria Sharapova 75 26 64.
In one of the most intense WTA matches I have ever seen, Bouchard battled to a 7-5 2-2 lead then suddenly collapsed. From that point Bouchard, who has not won a WTA singles match since Australia, managed to win only three more points the rest of the set. 7-5 2-6.
Bouchard would turn the match around in the third set though. In a titanic battle, both players averted love-40 deficits and battled all the way tooth and nail. If it looked like it was two players competing against each other who detested each other, you're observation may be correct.
Bouchard openly and publicly blasted Sharapova as a "cheater" for her near one year suspension for using the banned performance enhancing drug meldonium. Sharapova took the high road when asked by the media about the verbal criticism by Bouchard but one could sense a deep tension between the two players.
Both WTA superstars battled with an extra edge and intensity for the entire match and it was the younger Bouchard who ultimately scored the victory on her own serve, on her second match point with an untouchable cross court forehand. The match lasted two hours and 51 minutes.
Bouchard was elated with the sensational win, leaping twice into the air Federer style before tensely exchanging a terse handshake with her controversial conquest Sharapova.
This could be the type of match that awakens the talented but underachieving Bouchard, who has struggled to achieve many important victories over the last two years. This is the kind of epic triumph that could change everything for Bouchard including the direction of her career.
For Bouchard showed today in Madrid that she certainly has the talent, the power, the technique and the mental fortitude to win a Grand Slam major title on any surface.
No tags
53 comments
<< Bollettieri Suggests How He'd Like Book About NBTA To Be Written