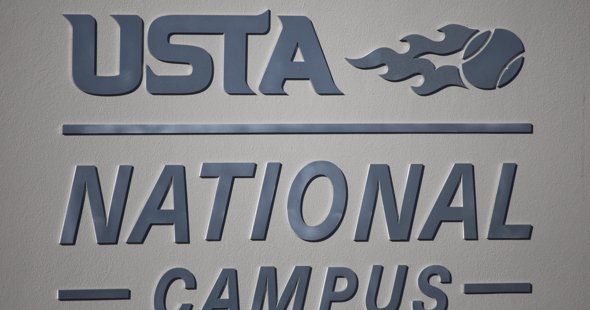 By Scoop Malinowski
I've been to Wimbledon, Miami Open, US Open, Eddie Herr, Sarasota Open, Newport, Citi Open, Orange Bowl and now a new prestigious tournament, the US Winter Nationals being contested this week at the USTA National Campus in Orlando, FL by girls and boys 18s and 16s
Tons of five star recruit players here and coaches from universities all over the nation, including Northwestern, Utah, Cornell, Texas A&M to name a few.
And at least one tennis legend, Brian Gottfried, who was once the third ranked player in the world and made the finals of 1977 Roland Garros, losing to Guillermo Vilas 06 36 06. Brian is coaching a kid in the 18s from Jacksonville, where Brian coaches at an academy. Talking to Gottfried is like talking to a tennis doctor (I will post our interview next year), he has an interesting view of the sport that mere mortals can't see. Gottfried, who won 25 singles and 54 doubles titles, is 66 now and still hits with these top American juniors.
A few players and their actions have caught my eye here.The NJ 14s girl Mary Moon (name changed) is seeded in the 16s and has won three matches in singles to reach the round of 16.
The first match was an epic 62 26 62 against a girl from Illinois. Mary was on fire in the first but the opponent got red hot in the second, managing the ball over the court and coming to net and knocking off about her first ten volleys for winners. The third set continued with the Illini maintaining momentum control, holding serve at love for 1-0. Mary held and the battle raged on.
2-2 was a battle game with Mary breaking for 3-2. She raised her game and shot selection to deny the opponent to control the points. She also raised her intensity, exhorting herself on, breathing heavily, exuding an urgent, almost ferocious body language sort of like a caged lion about to be unleashed into the wild. She has that ability and passion to will herself to a higher level of play when it's needed. 4-2. 5-2 and finally 6-2. The opponent didn't choke or play bad, she just got hit by a storm of tennis fury and intensity and was overwhelmed. Mary's desire is different and rare. I have seen no other players at Winter Nationals with it.
Her doubles match on Saturday night was also interesting. With a player from her club in NJ as partner, they won the first set 6-2 and were up a break in the second, with a chance to get the double break. But the other team was strong, a Texan and Californian. All four players won their singles that day. This other team began to play better with all the same cross court patterns and won the second set 75.
The other team had the momentum into the super tiebreak and they had gained the upper hand with the same cross court patterns on every point. Neither team every tried a different formation like Aussie or both girls back. So I thought a change of tactics was needed for the super tiebreak but Mary's partner's dad, who played Boris Becker in juniors, acted as the coach and his advice was to keep playing cross court and then go for the angles.
But that was just doing the same thing over and over and the other team had proven superior in this game. My idea was to change it up, to serve to ad court and have the partner move to the left box, to force the returner to hit a backhand up the line. Where the server would be ready and challenge the opponents to hit half court. Then try a lob over the opponent net girl and force the baseline player to hit a running forehand off a lob. Anything to break their rhythm and flow, make them think and hit different shots. Control the terms and ask new questions. The same old cross court patterns wasn't working anymore and it was in their favor. Or play baseline doubles to give them a different look and make them think. A 4-0 lead evaporated and they lost it 7-10. But it's only doubles.
The second round singles was another epic 64 46 63. I didn't see the match but I know what happened, after seeing Mary win several three setters this month at Eddie Herr and Orange Bowl. She willed herself to victory with her secret weapon of passion, drive, will and courage in the face of adversity. She really loves to play these matches, with an abundance of joy and enthusiasm, while most of the player I see just seem out there, for whatever reasons.
Today Mary played the third round on court 32 against a girl with a legendary name, Ann Guerry from Atlanta, also a five star recruit. Was she related to Zan Guerry, who once beat Guillermo Vilas? Most likely. Mary was dominant today, scoring a 62 60 win, a score she likes as she won by the same exact score in the first round of Eddie Herr and Orange Bowl this year. Why she won was clear, she was superior at the baseline and mixed it up more, finding the opponent had trouble with her pace and variety, especially the alternating probing to the forehand and backhand and the different paces and heights and spins and speeds. The second set featured a drop shot point winner and a perfectly executed backhand approach and backhand volley winner. Round of 16 tomorrow.
This national campus is perfect. The courts are perfect, each match is live streamed. Water is free at fill up stations. If I could make one small suggestion to this tennis paradise, it would be to give each player a placard with their name, which they would affix to a holder or to lean on their chair at the court, so observers could see the names of each player at each court.
I saw some big talents, but have no names to share. I would guess about 90% of the players use two handed backhands. Maybe even more. And most of the players dress in attire you see on TV but a few are originals. One kid wore a yellow Brasil t-shirt and came to court with no racquet bag, just three racquets. Another kid wore a Kansas City Chiefs gray T shirt. One girl, Samantha Bucykx wore all white, the only player I saw in all white.
While all this junior action is going on, a pro event started today, the Orlando Open, a new Challenger. Stefan Kozlov, Evan King, and Carlos Taberner are in the draw.
I had the pleasure to meet the coach of the Northwestern women's team Julian Tejada of Colombia, who worked for seven years at Saddle Brook where he was hitting partner for years for four no. 1 players – Justine Henin, Jennifer Capriati, Martina Hingis and Vica Azarenka. He said those girls never hit with each other, they stayed apart. he said these experiences helped him to land the Northwestern coaching job, a school that has produced Todd Martin and Katrina Adams.
Stay tuned for more Winter Nationals information…
Lake Nona · USTA National Campus · Winter Nationals
12 comments