Controversial Maxime Cressy Is Breaking Out
42 Comments · Posted by Scoop Malinowski in Scoop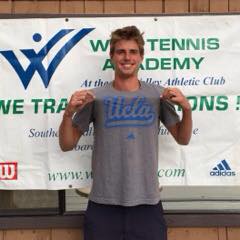 I never even heard of Maxime Cressy until last month. The 6-foot-six, Californian born in Paris, plays at UCLA and gained a wildcard into Newport Beach Challenger qualies where he edged Stefan Kozlov from 2-4 down in the first, 76 61.
He won two rounds in main draw.
Then he won the doubles title in Columbus Challenger with Bernardo Saraiva.
Cressy is 21 and he has a very interesting game, he serves and volleys on just about every point and he tries to chip and attack when returning, to get to net. Constant pressure. Nice volleys. He also, most uniquely, has a very vocal fighting spirit and yells Cmon after many big points, he also grunts and makes noises on each ball strike when the match is tense.
With his fiery manner and backwards cap, Cressy reminds one of a young Lleyton Hewitt, a ferocious, fearless competitor who doesn't care what anyone or any opponents thinks or says about his intensity. He's here to succeed and do it his way, giving it every ounce of passion and fight he's got in his blood, sweat and soul. He's as in your face and fearless of confrontation as young Hewitt. Richard Gasquet passive personality Cressy certainly is not.
The man is taking on the world and he's absolutely determined to succeed and become a triumphant pro tennis player. If you don't like his vocal excesses, tough luck. Cressy isn't showing any signs of deferring to anyone. Be the best, f*** the rest.
This week Cressy roared like a lion vs Uchida and Smyczek, who got so upset he screamed at Cressy to "shut up!" When have you ever seen a cool, calm, composed veteran like Tim Smyczek snap like that and scream on the court? How about never. I've seen Smee play dozens of times and never seen him explode in anger like that ever. Cressy is getting in people's heads, even cool cat vets like Smee. Cressy won the match this week in Cleveland 64 63.
Since beating Kozlov, Cressy has been on a tear. In main draw in Newport Beach he beat Sarkissian and then lost to eventual finalist Schnur 62 75. This week in Cleveland, Cressy qualified again, and in main draw beat Uchida, Escobar, Gojo and Smyczek, all in straights sets. Cressy is into the semis where he will battle a UCLA alumni Marcos Giron.
Cressy is now 335 in the world and rising fast.
The more he wins the more he roars. The lion must roar.
Stay tuned as we keep following this breakout future star Maxime Cressy…
Here is an article at Deadpin that shows Cressy videos of his controversial and provocative roaring vs Smyczek and Uchida.
French · Maxime Cressy · UCLA
42 comments
<< Is Bernard Tomic the most normal, honest man in pro tennis?