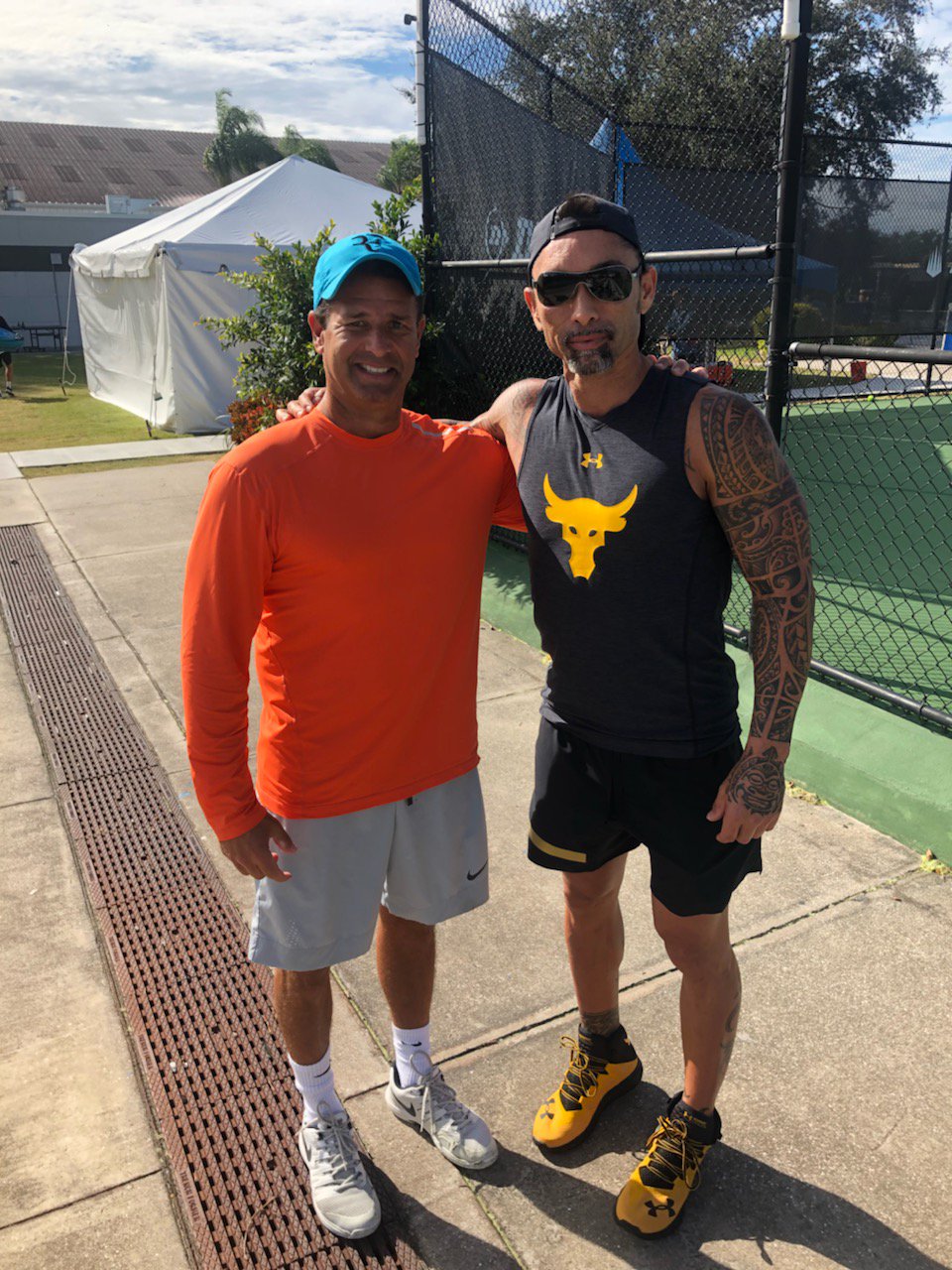 By Scoop Malinowski
Chip McCarthy, one of the original figures of the IMG and NBTA, shared some nice scoops. He said earlier this year Kei Nishikori was leaving the grounds by himself after a practice and saw a little girl sitting and crying. He approached her and asked what was wrong? She said she was playing poorly and didn't know if she wanted to continue to play tennis. Next thing, Kei took her to a court and started practicing and coaching her. True story.
Chip also shared details about the hiring of new Director of Player Development Jimmy Arias, who was an original student of Nick Bollettieri at the old Colony Resort on Longboat Key. Chip called Arias to offer him a job, with the intent to continue the legacy of Bollettieri at IMG, as Jimmy is practically synonymous with Nick. Arias expressed his needs humorously, that he's always believed in the motto of doing the least amount of work for the most amount of money. They worked out a deal and then Jimmy was stumped. What do I do now? I've never had a job before. In case you're wondering, he had to do paperwork.
There have been too many impressive players here in Bradenton this week to count. Every single player looks like, to varying degrees, a miniature professional, with no glaring weaknesses other than some weaker serves. The power and explosiveness of the 18s, 16s and even 14s looks pro level already. Max Mirnyi and his dad are working with Alexsandr Kalinin of Belarus, a big tall athlete with major firepower. He made the semis.
A top 14s girl is Clervie Ngounoue, who is actually 12. She beat Liv Hovde today in the semis, 46 61 62. Clervie plays like a Venus clone but a little less gangly, she is solid from the baseline but wowingly impressive coming to net and making swing volley winners from the mid court. Hovde trains with Phil and Taylor Dent in Texas. She was a smooth little mini pro who often looked over at her dad and after the second set he came out and coached her, sitting next to her and often hugging and kissing her forehead. I never saw a father do that. Clervie is just too much right now. Colette Lewis of Zoo tennis said she is beating all the top 14s players of Florida in training.
John Morris, the agent of Nick Kyrgios, was watching Clervie and said he's interested to represent her possibly in the future. He also noted he was watching the 12s semi of Rudy Quon vs Maximus Dussault, who played an epic won by lefty Dussault 10-4 in the super breaker. Quon was crushed after the rare loss, sitting in his chair for ten minutes, crying and contemplating what went wrong. I yelled You're still the man Rudy! to try to lift his spirits but it seemed to make him cry again.
Marcelo Rios was practicing very hard again today, getting ready for a December exo vs Nico Lapentti. It's stunning how hard Rios is working every other day here, grunting on every single ball and expressing so much frustration, anger, self exhorting. We were eating lunch and you could hear the Rios yells over the fence. It's like he's willing himself to be great again. I would not be surprised if he secretly wants to try a comeback. The magic is still there, he can still rocket the forehands, the backhand is less reliable, the touch is still there on volleys. The big difference is he's huge in the upper body and his legs are small. The muscles seem to be restricting his form and agility. But it's really something special to see Rios on the court again with so much passion, desire and determination to reach his maximum optimum level.
I noticed one player I like and have mentioned before was actually wearing worn out old Nike hard court shoes on Har Tru. I had to ask his coach/uncle why and he said the Nike shoes are so bad now that they all hurt the kid's feet and these shoes are the only ones that don't hurt his feet. He said he has ten pairs of Nike Cages just sitting at home because the player can't wear them, the inner soles are actually tilted sloped down to the inside and it has caused injury problems. It's shocking to hear that Nike is creating such an inferior product. Of course, the Fed, Nadal and other big star Nike players all get customized shoes. This player is under contract so has to keep wearing the shoes though he really preferred the adidas Barricades he used to wear.
Zane Kahn is still alive in the 16s. He won the 14s here two years ago and finaled in the 12s four years ago. He's a very emotional vocal player, grunting on every ball and yelling come on through out the matches. He's much bigger and stronger now. This year he finaled at Kalamzoo 16s, losing to Martin Damm. He also won a set at US Open juniors from Thiago Seyboth Wild, the eventual champion from Brazil.
McCarthy confirmed that IMG and the Eddie Herr tournament have had discussions with Tennis Channel about televising the event in the future.
Eddie Herr · IMG · Marcelo Rios
6 comments