Djokovic and Del Potro Restore Order and Respect at US Open
15 Comments · Posted by Scoop Malinowski in Scoop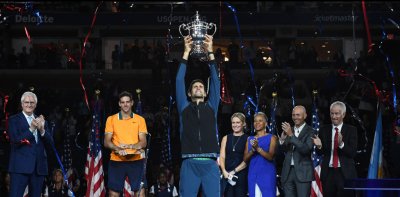 By Scoop Malinowski
A day after one of the most unfortunate finals in Grand Slam history, Novak Djokovic and Juan Martin Del Potro restored respect and class to professional tennis with their thrilling confrontation.
Djokovic prevailed 63 76 63 by virtue of a devastating display of machine like efficiency and pinpoint accuracy. When Djokovic is operating at his highest level there is no man from history who can topple him.
The spectacular Serbian now has established winning head to head records vs Federer, Nadal and Del Potro, at 15-4. Djokovic has won the last four matches against the Argentine since their epic first round Olympic battle in Rio in 2016, won by Juan Martin 76 76, which featured both players crying on the court after, having completely drained themselves physically and emotionally in one of the best yet forgotten clashes of the decade.
Today only Del Potro shed tears when it was over, his spirit crushed because he was playing so well all fortnight and he had such enormous, animated support from the many Argentines inside Ashe but it was not enough to propel the "Gentle Giant" to his fifth career win over Djokovic. To consider how well Del Potro was playing before today, consider that John McEnroe confidently predicted before the match began that Del Potro was going to spring the big upset.
The unlikely win looked possible in the middle of the second set, in the over 16 minute eighth game which Djokovic finally held to level at 4-4. Interestingly the sudden end of the game came after a short delay provoked by Djokovic about the number of balls on the court. The momentary pause discombobulated Delpo's timing as he lost the next two points on errors. Djokovic eventually won the second set tiebreaker and the third set 36.
"I'm very sad for being a loser today," said Del Potro. "But Novak deserved to take the trophy. He played a great match, very smart game. I had my opportunities during the second and third set.  But I was playing almost at the limit all the time, looking for winners with my forehands, backhands, and I couldn't make it because Novak was there every time. He's a great champion. So I'm glad for him."
The two shared a long, warm embrace at net and then another a few minutes later when Djokovic visited the despondent Delpo at his chair and held him from behind and whispered something private into his ear. The two champions showed a special bond that the other super champions of today do not express in the heat of battle.
Djokovic has now on 14 major titles (three US Opens), tying him with Pete Sampras, with only Federer (20) and Nadal (17) ahead of him.   The win also moves Djokovic to no. 2 in the ATP Race To London and within striking distance of Nadal. Shanghai Masters now looms vitally important to who will hold the world no. 1 ranking. Right now Djokovic owns 6,445 points, while the Spaniard has 7,480.
The $3.8 million payday for Djokovic also helps him to surpass Federer as the all time career earnings leader.
But most of all, the sport of tennis enjoyed a sensational final exhibiting superb tennis, sportsmanship, class and honor, unlike the sad turn of events from a day earlier.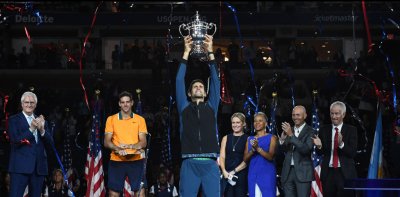 .
Del Potro · Djokovic · US Open
15 comments
<< Must admit, I've had some ugly moments on a tennis court too