Coco Gauff Dazzles in WTA Debut
25 Comments · Posted by Scoop Malinowski in Scoop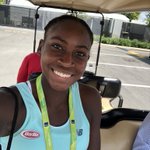 She came, she saw and she conquered. Coco Gauff won Roland Garros juniors, finaled at an ITF pro event in Arizona earlier this year and today she made her WTA main tour debut a successful one with a 36 63 64 win over Caty McNally.
Court 7 was full to capacity, with some heavyweight tennis figures watching the thrilling battle – Tony Godsick, Sven Groenveld, Patrick Mouratoglou, Robby Poole, photo man Paul Zimmer, Kyrgios agent John Morris and Kathy Rinaldi.
The match had a similar aura to the famous Anna Kournikova vs Martina Hingis junior US Open showdown on old grandstand that was won by Hingis 60 60.
Both players showed their best tennis, Gauff is a smart baseliner with a big bomb serve and ground strokes and also showed strong volleying late in the match. She also showed the heart of a champion, erasing a one set deficit with a quiet but fierce rally where she made adjustments such as using lobs and changing trajectories.
McNally began to miss more, even a few volleys. What a superb volleyer McNally is, maybe the best in the WTA with Ash Barty.
Sven Groenveld was seated next to me and he praised McNally's deliberate, professional demeanor. Gauff also looked like a veteran pro, showing no signs of immaturity or mental weakness. If McNally made a great play she looked at her box for a second as if to say, That was just too good, then she got back to business.
Gauff trailed 2-4 in the third and her box yelled at her to "make it physical, make it physical!" Gauff responded to the verbal inspiration and became more patient and harnessed her firepower and mixed in patient slower balls and waited for the right time for the kill shot. She also said she stopped spinning her serves too much and just went for it. The tactics worked and Gauff introduced herself to the pro tennis world with a brilliant display.
The two had a nice embrace at net. They played the Roland Garros singles final – also won by Gauff in three sets – and are friendly but of course they know they are destined to be rivals.
Gauff charmed the media after her debut win and shared some good quotes for the assembled press group of four journalists.
"I still don't believe that I won," Gauff said afterward. "After the match, I served for the match and I was, like, 'Do I have to return again, or do we shake hands? I didn't really think it was over.'
"This is a dream, like, I have been dreaming of this moment for years, just playing in the Miami Open. And I have been coming to this tournament since I was eight or nine years old. Watching the players here and actually being in the same tournament, being in the same area as players that I've watched since practically I was born, it's so surreal to me."
Gauff is well aware of McNally's skillset, but she was able to hit this week with the likes of Andrea Petkovic, Monica Puig and Nick Kyrgios.
"I know she has good hands, because I've played doubles with her, but just trying to make her prove that she has good hands, if that makes sense, just trying to make her play volleys," Gauff said. "I know she's going to make the volley, but you never know, you get lucky. She had unreal hands, unreal hands the whole match. I think she won more net points than she lost, for sure. You never know. You get lucky, she misses a volley at the right time, you never know."
"It kind of helped, obviously, because I knew her tendencies, but also I think it helps her, like, we both kind of had advantage because know each other's games very well," Gauff said. "I think that anyone could have won today, and I think the match just was really decided by two or three points."
"My goal for every tournament is to win the tournament," Gauff said. "I don't want to say I will just win this next match and be done. My goal is to win the tournament. I'm going to keep that goal there and just keep fighting for it."
She also signed a deal with Barilla Pasta, adding another sponsor to her growing team of New Balance and Head.
Gauff also did an interview on Tennis Channel and said to Brett Haber and Chanda Rubin: "I still run to the TV every time I hear my name on Tennis Channel."
Get ready to see a lot of Coco Gauff on Tennis Channel and ESPN in the coming years.
25 comments